Words by Edgar Allen Beem | Photos by Michael Wilson
Commercial galleries come and go, but the Portland art scene is powered by artist-run galleries.
Portland has witnessed a sea change in the art gallery scene over the past couple of years, with established commercial galleries closing and new, artist-run galleries opening on and off the peninsula.
Portland did not really have a year-round contemporary art gallery until 1973, when artist Tom Crotty moved his Frost Gully Gallery from Freeport to Portland. Before that, artists staged their own pop-up exhibitions in the Old Port and on the waterfront.
The intervening 45 years have seen waves of art galleries – Frost Gully, Barridoff, Hobe Sound; Galley 127, Congress Square, Dean Velentgas; Danforth, Dead Space, Hinge; Aucocisco, June Fitzpatrick, Rose; Addison Woolley, Three Fish, PhoPa. The sole survivor of this ebb and flow has been Greenhut Galleries, which began life in 1977 as Posters Plus.
Today, the Portland art scene seems to have gone back to the future, the energy in the city being generated by artist-run galleries less interested in selling commodities than in exploring concepts. That makes for a lot of experimental, edgy, engaged art by emerging artists in Portland these days.
"It's cool that young artists are not waiting to be invited to show; they are showing themselves," says Grant Wahlquist, whose gallery on Monument Way bridges the gap between traditional and artist-run galleries.
GRANT WAHLQUIST GALLERY
30 City Center, Second Floor
"I'm not an artist, but I am married to an artist and all my friends are artists," says Wahlquist, whose gallery, which opened in 2017, distinguishes itself by showing mostly artists from away.
"I believe this is the first commercial space that has not had a regional focus," says Wahlquist. "Only four of the 12 artists I represent are from Maine."
Those artists are photographer Tad Beck, Wahlquist's husband; Diana Cherbuliez of Vinalhaven; Kate Greene, who teaches photography at Maine College of Art (MECA); and Jill Poyourow from Cape Neddick.
Suffice it to say, Grant Wahlquist shows challenging contemporary work. No Maine landscapes or seascapes here. Wahlquist recently sold, for example, a piece by Cherbuliez, a model of her Vinalhaven home made out of wasp and hornet nests to the Worcester Art Museum.
"Most of the work leaves the state," he says. "I want that to change."

ABLE BAKER CONTEMPORARY
29 Forest Avenue
Another gallery showing a lot of emerging artists is Able Baker Contemporary, opened in 2016 at the top of Forest Avenue by artists Hilary Irons and Stephen Benenson.
"I was impressed by galleries like Aucocisco, Whitney Artworks, and June Fitzpatrick that were experimental but formal and respectful toward artists," says Irons, who teaches at MECA.
So, inspired both by Field Projects, an artists-run space in New York and by the Institute of American Art, fellow MECA faculty member Christopher Stiegler's grandiose name for his occasional pop-up gallery, she and Benenson opened Able Baker Contemporary with the first in a series of group shows curated by artists.
You Yes You was curated by Camden-Rockland artist Meghan Brady, who invited her friends Elizabeth Atterbury, Joe Ballweg, EJ Hauser, Karen Gelardi, Anna Hepler, Matt Phillips, Andrea Sulzer, and Zoe Wright to show with her.
"The new model," says Irons, "is that artists are not only in control of the mode of production, they are also in control of language used to define what they are doing."
NEW SYSTEM EXHIBITIONS
82 Parris Street
The pioneering young artists Wahlquist praises include the cadre of 2016–17 Bowdoin College graduates — Franklin Ahrens, Henry Austin, Isaac Jaegerman, Alice Jones, Hector Magan, and Cody Stack—who opened New Systems Exhibitions in an old industrial laundry building on the edge of Bayside in the spring of 2018.
"The whole point of the gallery," says Stack, who grew up in Old Orchard Beach, "is that young Portland artists didn't have a space where they could show large works or multiple works."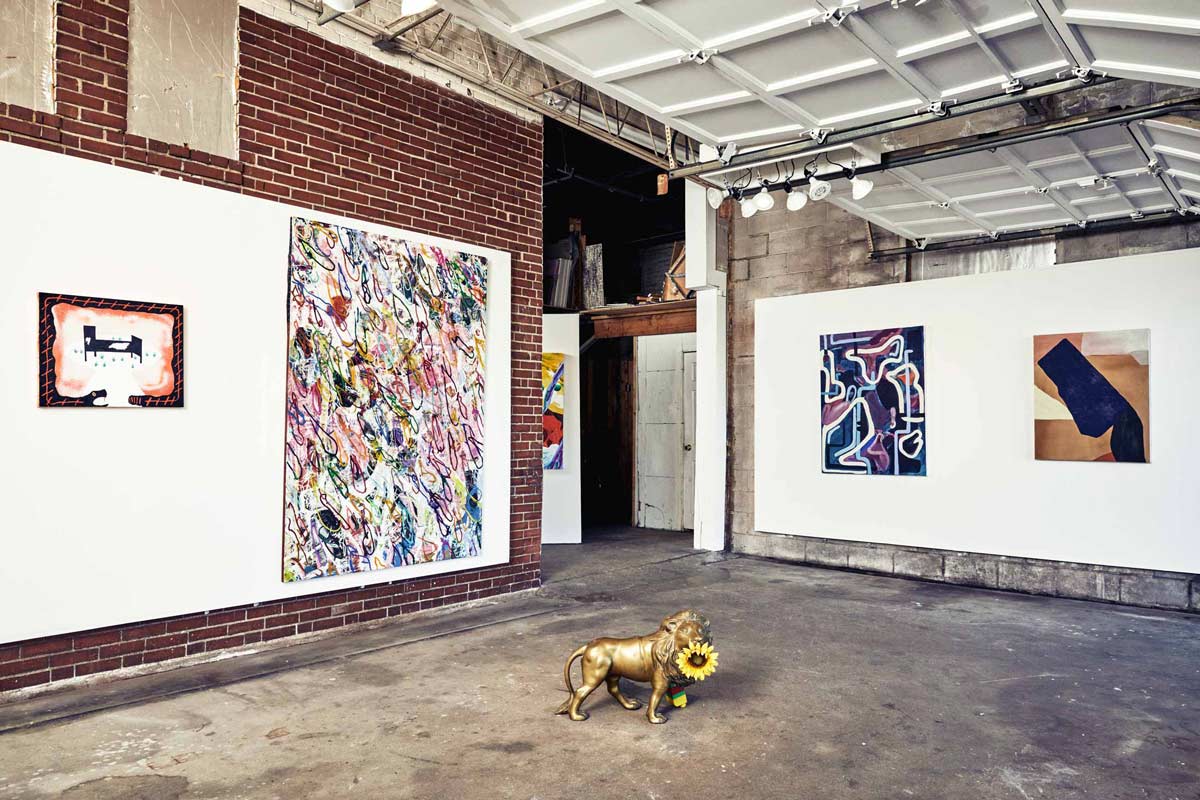 New System Exhibitions mounts 10-day shows by the founders, their friends, and artists they admire in raw spaces that double as studios when not in use as galleries. One recent exhibition entitled Assist featured objects and images associated with soccer — deflated balls, water bottles, orange cones — by Rockland artist Anna Queen.
"Suddenly," says Jaegerman, who grew up in Portland, "there does seem to be more opportunities for emerging artists."
SPACE
534-538 Congress Street
Both Irons and Benenson have studios next door to MECA in the Artist Studio Building, which since 2012 has been owned by SPACE, the nonprofit alternative arts venue founded in 2002.
For the past two years, art activist Elizabeth Spavento has overseen the SPACE Gallery as well as its grant program, artist residencies, and 30 studios.
"There are no more warehouse spaces around for artists to occupy," says Spavento. "Artists need affordable housing and affordable studio space. We have a huge waiting list for studio space."
The focus of SPACE Gallery in recent years has been on art concerned with social justice and community. As such, there seems to be almost a collaboration between SPACE Gallery and MECA's Institute for Contemporary Art next door.
"Art is a pathway to civic engagement," says Spavento, noting that she looks for "contemporary art that stimulates critical dialogue."
A recent exhibition entitled Swamp Thing featured large-scale experimental photographs by Sun System Press, a collaboration between Cole Caswell, Bryan Graf, and CJ Heyliger.
SPACE puts a premium on experimentation, as does Border Patrol, a personal project directed by Spavento and her partners Jared Haug and Meg Hahn.
BORDER PATROL
142 High Street, Suite 309
Border Patrol is a by-appointment art gallery located in a three-room former dentist office above the State Theatre on the third floor of the Congress Building. Interested in the intersection between fine art and corporate aesthetics, Spavento, Haug, and Hahn invite artists to create installations and exhibitions, such as reconstructed sneakers by David Munson and a faux museum by fellow MECA student Prudence Ho.
516 Congress Street
The Union of Maine Visual Artists (UMVA) Gallery flanks MECA on the opposite side from SPACE in the Portland Media Center building. The UMVA Gallery mounts monthly exhibitions of art by some of its 300-odd members.
UMVA, founded in 1975, is the state's artist advocacy group. It publishes the online Maine Arts Journal and sponsors an Artists' Rapid Response Team political action arm, the LumenARRT! video projection team, and the Maine Masters series of video biographies. "This is where we think about principles and ethics and what is the right thing to do," says Janice Moore, who helps direct the UMVA Gallery. "How do we use art as truth?"
A project of the Portland chapter of UMVA, the gallery staged three shows a year for several years, but since 2017 has been mounting monthly exhibitions, such as a recently concluded show of 29 members exhibiting art related to chairs.
SPEEDWELL PROJECTS
630 Forest Avenue
Photographer Jocelyn Lee, who is represented by Pace/MacGill Gallery in New York, founded Speedwell Projects in Woodfords Corner in 2016 to exhibit the work of underrepresented artists. Her tenants include The Bakery Photo Collective and a halal market.
"I knew firsthand that great work was being ignored or only meagerly exhibited," says Lee. "Speedwell Projects was my antidote."
Speedwell Projects has presented exhibitions focused on such challenging topics as mental illness, gay love, our disposable society, and empowering women. The gallery has shown emerging artists such as photographer Dylan Hausthor, midcareer artist Adriane Herman and her installation of compacted trash, and established artists such as Alison Hildreth, whose year-end exhibition dealt with ideas about flight, both fleeing and flying.
"Speedwell Projects," Lee says, "is fundamentally a space to support artists and their work, however possible."
And, in essence, that is exactly what the Portland gallery scene is all about at the moment, helping local artists find an audience and local audiences find new art.